The indispensable heart of every solar system
Fronius inverters are efficient and reliable and form the indispensable heart of every photovoltaic system. Power categories ranging from 1.5 to 27.0 kW guarantee suitability for virtually any system size – from a family home to a large-scale system.
Fronius Primo
With power categories ranging from 3.0 to 8.2 kW, the Fronius Primo perfectly complements the SnapINverter generation. This single-phase, transformerless device is the ideal inverter for private households. Its innovative SuperFlex Design provides maximum flexibility in system design, while the SnapINverter mounting system makes installation and maintenance as easy as possible. The communication package included as standard with WLAN, energy management, numerous interfaces, and much more besides, makes the Fronius Primo a communicative inverter for owner-occupiers.
Fronius Smart Meter
The Fronius Smart Meter is a bidirectional meter that optimises self-consumption and records the household's load curve. Together with Fronius Solar.web, the Fronius Smart Meter presents a clear overview of power consumption. In the Fronius Energy Package storage solution, the Fronius Smart Meter provides perfectly coordinated management of the energy flows and optimises overall energy management. The Fronius Smart Meter is ideal for use with the Fronius Symo, Fronius Symo Hybrid, Fronius Galvo, Fronius Primo, Fronius Eco inverters and the Fronius Datamanager 2.0.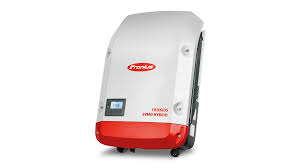 Fronius Symo
Boasting power categories from 10 to 24 kW, the transformerless Fronius Symo is the ideal compact three-phase inverter for commercial applications. Its dual maximum power point tracking, high maximum system voltage, wide input voltage range and unrestricted use indoors and out, ensures maximum flexibility in PV system design. As a member of the new SnapINverter family, the Fronius Symo features the SnapINverter mounting system, allowing for secure and convenient installation and field servicing.
Industry-leading features now come standard with the Fronius Symo, including: arc fault protection, integrated wireless monitoring, and SunSpec Modbus interfaces for seamless monitoring and datalogging via Fronius' online and mobile platform, Fronius Solar.web. This makes the Fronius Symo one of the most communicative, efficient and streamlined inverters on the market.
Enquire about Fronius Inverters
Were you looking for further information on Fronius Inverters? Maybe you have a question on a particular product for an installation.
Please get in touch, and we will see how we can help.
With 18 years of direct experience in the solar and electrical industry, we've seen the good, the bad, and the ugly, and have learnt how to stand out from the rest. From our Warkworth base in Rodney, we service our own customers across the North Island, and have become the go to solar and electrical installation company to a number of NZ's major electricity retailers, generation companies, corporates and retailers in the solar and electrical industry.